Mass Times
Monday: 8:00 am & 12:00 pm
Tuesday: 8:00 am & 12:00 pm
Wednesday: 8:00 am, 12:00 pm & 7:00 pm (Spanish)
Thursday: 8:00 am & 12:00 pm
Friday: 8:00 am & 12:00 pm
Saturday: 8:00 am, 4:00 pm vigil, 6:00 pm vigil (French)
Sunday: 8:00 am, 10:00 am & 12:30 pm (Spanish)

EXPOSITION OF THE BLESSED SACRAMENT
Wednesdays and First Fridays: 8:30 am - 11:30 am (followed by solemn benediction).

SACRAMENT OF PENANCE
The sacrament of penance is available every Saturday at 3:00 pm, and Sunday at 11:30 am, or by appointment.

CHAPEL HOURS
The chapel is open for adoration and private prayer every day from 8:00 am - 5:30 pm.
Office Hours
Monday - Thursday: 8:30 am - 3:30 pm
Friday: 8:30 am - Noon
Saturday – Sunday: Closed
ST. NICHOLAS GIFT CARD COLLECTION
Please bring gift cards for Target, Walmart, and VISA next weekend for our annual St. Nicholas gift card drive. The gift cards will benefit the needy in our area. Please write the amount on the cards and drop them in the offertory next weekend (December 3 & 4). Amounts should be no less than $20. Thank you for your generosity!
WOMEN'S CLUB BALANCED HEALTH COLLECTION
Our Holy Cross Women's Club is asking for donations for their annual Christmas visit to Balanced Health nursing home. We are asking for large or x-large T-shirts, sugar free cookies, ball caps, lap robes, playing cards and knitted or crocheted hats. These items can be dropped off in the narthex next weekend, December 3 & 4. God reward your generosity!
LOAVES & FISHES THANK YOU
Congratulations to our Holy Cross Loaves & Fishes ministry for being given Pinellas Hope's Hunger Hero award!
FEAST OF THE IMMACULATE CONCEPTION
The Feast of the Immaculate Conception is Thursday, December 8. This feast is a holy day of obligation this year. Mass times will be:
4pm vigil, Wednesday, December 7
7pm vigil (Spanish), Wednesday, December 7
8am Mass, Thursday, December 8
12pm Mass, Thursday, December 8
Please join us for our next blood drive on Sunday, December 11. Donors will receive a $20 gift card, blanket, and free wellness checkup. The bus will be in the west parking lot from 8am - 1pm. Thank you for your generosity!
OUR LADY OF GUADALUPE MASS
Please join us for a Mass in honor of Our Lady of Guadalupe on Monday, December 12, at 7:30 pm. We will have a party afterward with mariachis and traditional Mexican food. The party will be in the small hall. We look forward to seeing you there!
Examination of conscience for adults (English)
Please join us in our new parish prayer:
Lord Jesus Christ,
You call us to build your Church,
Not of bricks and mortar, but of living stones.
Give us your Holy Spirit to transform us so that,
Nurtured by the Eucharist,
We may courageously strive to respond to your call
To make disciples for your glory and the salvation of the world.
Amen.
Señor Jesucristo, nos llamas a construir tu Iglesia, no de ladrillos y cemento, sino de piedras vivas. Danos tu Espíritu Santo para que nos transformes para que, nutridos por la Eucaristía, podamos responder alientemente a tu llamada de hacer discípulos para tu gloria y la salvación del mundo. Amén.
Are you reading yet?
We invite everyone in our parish to read Rebuilt: The Story of a Catholic Parish, by Michael White and Tom Corcoran. This book is an important first step as we begin our parish-wide journey of making disciples for Christ. Use the following discussion and reflection questions with chapter 3 of Rebuilt:
"The Church has a mission statement: Make disciples. That's it." If you had to rate your parish on a scale of one to ten (ten being excellent), how well are you doing at making disciples? Why?
Does your parish have a mission statement? If so, is it drawn from the mission that Christ has given to the Church?
Could your parish benefit from a retooling of your mission statement?
The word "evangelization" makes many Catholics feel uncomfortable and yet that is exactly what Jesus and his Apostles did. Pope Paul VI wrote about the Church: "She exists in order to evangelize." How can you do more evangelization as a parish?
"Jesus made lost people his priority." Would you say the same thing about your parish? Why or why not?
Think for a moment about how you view the Catholics who aren't at Mass on Sundays—the people who only show up on Christmas and Easter. Do you hold them in contempt? Do you feel that it is their own fault for not coming to church on Sundays? Inspired by Christ's mission statement, how should you think of them instead?
For more information, please visit rebuiltparish.com.
PRAISE & WORSHIP ADORATION
This is an effort of the Southwest Deanery's "Courageously Living the Gospel" Youth & Young Adult Ministry Initiative
Please join us at St. Jerome parish on December 4 at 7pm for Eucharistic Adoration "Praise & Worship XLT", sponsored by St Jerome Youth Ministry. The address is 10895 Hamlin Blvd, Largo, FL 33774. See you there!
This is an effort of the Southwest Deanery's "Courageously Living the Gospel" Youth & Young Adult Ministry Initiative
Please join us at St. Jerome parish on December 7 for a presentation by Chris Stefanick called "Living Joy: How to Live a Joyful Life". Chris Stefanick is a well known author, television host and public speaker. Doors open at 6pm. Program starts at 7pm. The program will be followed by a Q & A with Chris and a book signing. Books will be available for purchase. The address is 10895 Hamlin Blvd, Largo, FL 33774. We look forward to seeing you there!
UPCOMING YOUTH MINISTRY GROUPS
YOUTH MINISTRY GROUP, GRADES 9-12/GRUPO DE MINISTERIO JUVENIL, GRADOS 9-12
Day = Every Thursday
Time = 7:00pm to 9:00pm
Place = Classroom #12
Begins November 3
YOUNG ADULTS GROUP, AGES 18-39/GRUPO DE ADULTOS JÓVENES, EDADES 18-39
Day = Every Wednesday
Time = 7:00pm to 9:00pm
Place = Classroom #12
Begins November 2
MEN'S GROUP/GRUPO DE HOMBRES
Day = Every Wednesday
Time = 5:00pm to 6:30pm
Place = Classroom #12
Begins November 2
Youth Minister: Thomas Myers 727-314-1024 (text only) or

[email protected]

¡Hablamos español!
A big thank you to George Kostilnik for donating our new tree in front of the church! As you know, the last one was struck by lightning and killed last year. A big thank you to his crew for digging the hole and planting the tree on Monday. We are truly grateful for this example of discipleship in our parish. God bless you
Please join us in the small hall after the 8am & 10am Masses for coffee, donuts, and fellowship. Thank you to the Women's Club for hosting!
FORMED.ORG WEEKLY WATCH LIST
This week's FORMED weekly watchlist is With God in Russia, an audio recording of the book by the same name, which documents the heroic story of a Jesuit priest's experience of 24 years spent in Russian prison camps. Please click here to listen to this amazing story for free on FORMED.org!
Pope Francis is inviting the Catholic Church to journey together, specifically through the Synod on Synodality. The Diocese of St. Petersburg participated in the Diocesan phase of the Synod between October 2021 and March 2022 through listening and discernment sessions rooted in the Holy Spirit. A report has been created to highlight the feedback that has been received. Click here to read this repot in full: https://dosp.org/synod/. This information represents the many voices that responded to the Holy Father's invitation to pray for and reflect upon the future of the Church.
More information on the Synod:
Pope Francis will invite bishops from across the world to Rome in October of 2023 for a Synod to discern ways to engage more people in the decision-making process that affects the whole Church. The theme is: "For a Synodal Church: Communion, Participation, and Mission." A synod is a meeting of bishops, gathered to discuss a topic of theological or pastoral significance.
Leading up to this gathering, local dioceses will be consulting with local Catholics and others to create a report to submit to their national bishops' conference. Pope Francis commenced this initiative the weekend of Oct. 9-10, 2021 with an opening session and a Mass. The theme for the "Synod on Synodality" is Communion, Participation and Mission:
Communion– Bringing people together as communities in the local Church begins this prayerful insight into the ways of the Holy Spirit. When the Church gathers for the Eucharist, and what flows from it, is when the necessary self-understanding of the mission of the Church is best understood. Thus, the dialogue at this level is rooted in the life of the ecclesial communities and parishes.
Participation– The reflections that the local Churches and communities are undertaking regarding the pandemic form the context of how the Church looks forward, not backwards, to revitalizing its mission of bringing the Good News to all. The gentle call of invitation to the full practice of Catholic life, with the Eucharist at the center of all the Church does, is an integral part of the "walking together."
Mission– Understanding the local situation will feed necessarily into an overview of the mission in the whole diocese. Like a mosaic, the vision is formed of the needs for renewal so that mission to all people is firmly rooted in the life of the local community who gather, by gentle invitation by the Lord, to worship him, to be sanctified by him and to exercise both an individual and collective prophetic voice.
For more information, please visit https://www.dosp.org/synod/
Please note that names will be automatically removed from this list after three months. Please call the parish office to add a name to this list.
Please pray for the following
Gail, Karon, Beth Anne, Joe, Evelyn, Gerry, Ben, Mr. & Mrs. Verstappen, Victor, Karen, Rose Marie, John, Maureen, Colin, Paul, John, Joseph, Peggy, Kami, Katie, Anne-Marie, Simo, Josephine, Terry, Bill, Maria, Holly, Doris, Zima, Craig, Sharon, Mike, Robert, Phyllis, Jodi, Carly, Ann, Sharon, Beverly, Emily, Lynn, Mary Lou, Catherine, Roger, Maria, Alfredo, Eleanor, Dayana, Janet, Marilyn, Mary Ann, Bobby, Charlie, Christina, Peggy H., Mark, Renee, Glenn, Mary, Lynn, Sandra, Sally, Nick, Frank, Ed M., Paulette, Frank, Bozana, Mary Ellen, Sharon, Patty, Carlos, Maria Julia, Paula, Pam, Catherine, Amanda, Pat, Dennis, Lauren, Grace, Heidi, Scott, Lisa, Dawn Marie, Declan, Bodhi, Zora, Meza Family, Miguel, Nick, Sharon, Frankie, Kathy, Lisa, Pam, Frank, Sara, Nick, Lynn, Sarah Kristen, Joseph & Theresa, Pierotti Family, Sarah, Maggie, Dyllan, Elba, Artie & Halai, Annie, Jeanie, Anne, Lynn, Chuck, Carl, Bella, Bill, Montana, Eli, Susan, Karen, Fran, Diane & Troy & Family, Lori, Patricia & Anthony, Paul, Kathy, Maryann, Mario, Anthony, Christina, Joseph & Lucy, Chuck, Robert, Missa, David, Chuck, Sue Ann, Tina, Angie, Don, Justine, Maria, the Agars, Eleanor, Fr. Tom, Arlene, Brooke, Vincent, Larry, Daniel, Kristen, Susan, Donna, Evelyn, Carmelita, Meg, Allen, Candy, Geegee, Marc, Betsy, Chrissie, Lucille, Kayla, Austin, Tracy, Jan, Lainey, Carol, Jeff, Gary, June, Janice, Bill, Kathleen, Joseph, Sherrie, Norma, Laura Lee, Efrain, Lawrence, William, Francisco, Josephina, Juana, Eusebio, Francisco, Virginia, Dolores, Louisa, Jaime, Zaida, Anne Marie, Jenny, Miriam, Tommy, Camille, Monique, Marcellus, Jessica, Jay, Norton, Anne, Marietta, Taso, Lleya, Robert, Margaret N., Tina V., Frank, John, Linda, Idania, Stacey, Louis, Steve, Marge, Mrs. Blue & daughter, Emily, Walter, Nicholas, Helen, Kay, Mary Lou, Chris, Jessica H., Debora, Mariza, Halina, Leeann, Janet, Gary, Bill, Joseph, Cathleen, Helen, Gus, Kathleen, Philip, James, Carlos, Teresa, Cynthia, Josie, Mike, Miriam, Felix, Estrella, Ramos Family, Natalie, Robert, Richard & Maryann, Caceres Family
Blog Summary
Posted in Fr. Emery's Blog on 11/22/22
QUERIDOS AMIGOS,
Hoy entramos en el tiempo de Adviento. Todos recordamos y conocemos la ... Read More »
Posted in Fr. Emery's Blog on 11/22/22
Queridos amigos,
Hoy celebramos la Solemnidad de Cristo Rey. Proclamamos su realeza que está ... Read More »
SLEEPING MATS FOR THE HOMELESS
Sleeping Mats for the Homeless is meeting again at 1pm in the small hall. Please be sure to join us! Snacks will be provided.
Please join us for our new Spanish prayer group! For more information, please contact Nohora Leal at 727-656-7736. Thank you!
Please join us for the following!
Rosary: every Monday through Saturday, beginning at 7:30 am
Rosary for Priests: every Thursday, beginning at 11:30 am
Chaplet of Divine Mercy: every Friday, beginning at 11:45 am
Every Monday. Doors open at 4pm. First games start at 5:45pm. Bring a friend! $12 to start. We look forward to seeing you there!
BINGO IS POSTPONED UNTIL FURTHER NOTICE DUE TO AC PROBLEMS.
The lay Carmelite community # 1048 meets the second Wednesday of each month at 6:00 pm here at Holy Cross. For more information, please contact [email protected]
Weekly reading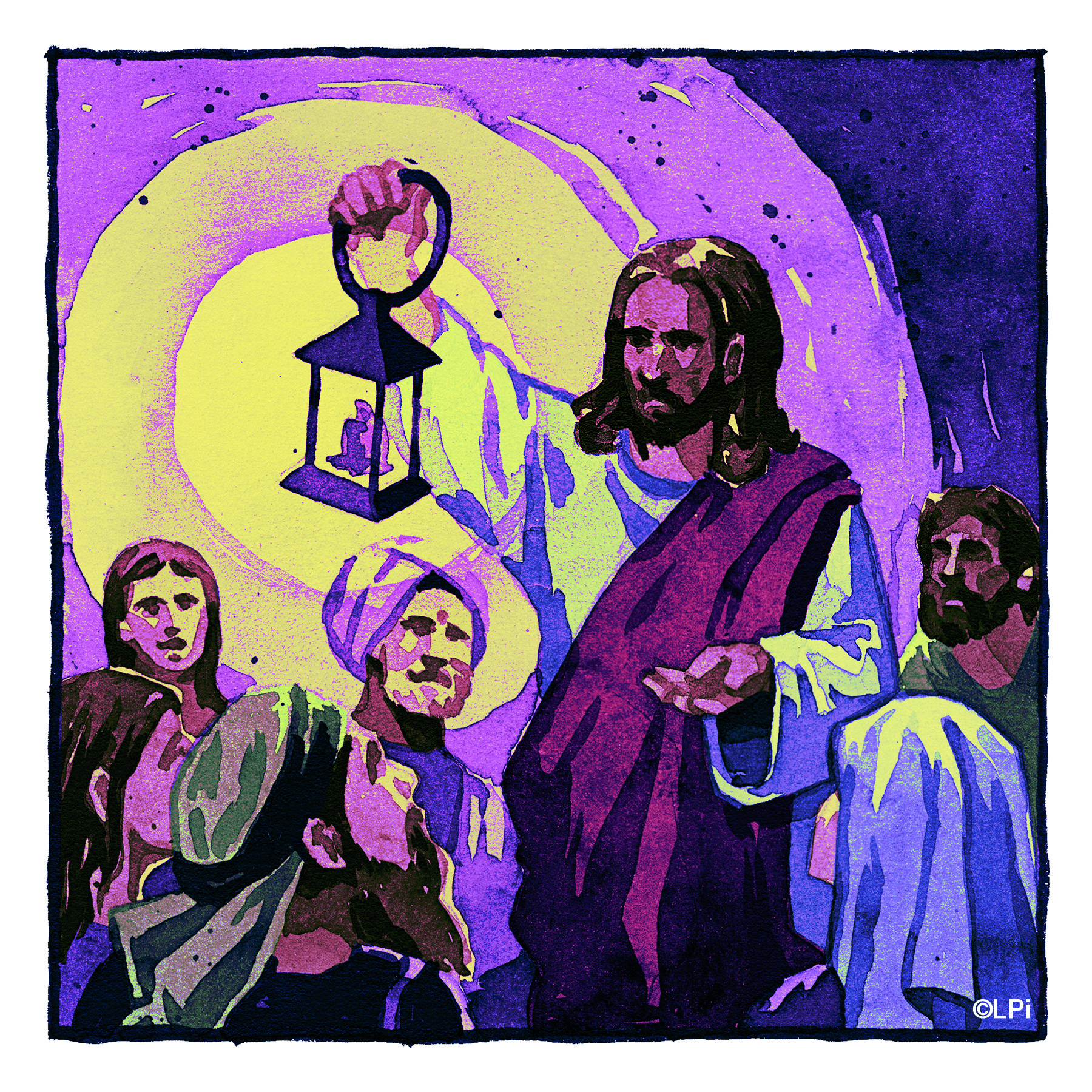 Weekly reading
Readings for the week of November 27, 2022
© Liturgical Publications Inc
Introducing a new, local Catholic news website!
"Gulf Coast Catholic was created by the Diocese of St. Petersburg to serve Tampa Bay, the Suncoast and the Nature Coast. We share positive and relevant articles that help you live your best Catholic life. Bishop Gregory Parkes is the publisher and Teresa Peterson is the Content Manager. You can reach us at [email protected]."
PARISHIONER REGISTRATION & UPDATE FORM
Every Catholic Should Be Registered in a Parish
Beside the active support and involvement that the registration enables, the parish registration is also a mandatory condition for sacraments such as baptism and matrimony.
It is therefore important to register at your parish as soon as you start attending Mass there regularly. Here's why:
You may receive verification letters to sponsor individuals for sacraments, receive sacraments yourself or your child (i.e. baptism, confirmation, matrimony)
You will have the opportunity to establish easy online giving and receive end of year tax contribution statements
You will receive important communications from the parish that non-registered parishioners won't receive
The parish will know the demographics and respond to needs. Further, the Diocese will know that our parish has a healthy base of registered, active parishioners
Please click here for our form, and be sure to answer each item so that our records for you are complete!
Bishop Parkes has written a letter about the end of the General Dispensation from the Sunday Mass obligation.
For instructions on how to sign up, please click here
Let Us Adore Jesus
The Bishops of the United States are calling for a three-year grassroots revival of devotion and belief in the Real Presence of Jesus in the Eucharist. They believe that God wants to see a movement of Catholics across the United States, healed, converted, formed, and unified by an encounter with Jesus in the Eucharist—and sent out in mission "for the life of the world."
These three years will culminate in the first National Eucharistic Congress in the United States in almost fifty years. Almost a hundred thousand Catholics will join together in Indianapolis for a once-in-a-lifetime pilgrimage toward the "source and summit" of our Catholic faith.
In late 2019, a Pew Study indicated what many had long suspected. Few Catholics, approximately 30 percent, fully believe in the Real Presence of Jesus in the Eucharist.
This stark reality inspired the Bishops of the United States to action. More than an event or a program, they envisioned a true Revival to rediscover the source and summit of our Faith through a deep commitment of prayer, pilgrimage, and worship on the part of the entire Church in the United States.
The advent of the pandemic only accelerated these plans, revealing their urgency and importance. Too many Catholics still have not returned to Mass to celebrate the central mystery of the Church.
Taking its title from the Bread of Life discourse in John's Gospel, "My flesh for the life of the world/Mi carne para la vida del mundo," the Eucharistic Revival is not a step-by-step plan or a series of meetings; it is a grassroots call and a challenge for every Catholic across the United States to rekindle the fire of love and devotion for the Eucharistic Heart of Jesus.
Over three years, every Catholic diocese, parish, school, apostolate, and family is invited to be a part of renewing the Church by enkindling a living relationship with the Lord Jesus Christ in the Holy Eucharist.
For more information, please visit dosp.org/revival/
PRAYER FOR THE CATHOLIC MINISTRY APPEAL
More numerous than the stars in the sky are your blessings, O Good and Gracious God. You have called us to spread the Good News of your Son, Jesus Christ, through our words and actions. Strengthen our faith and open our hearts to care for all our brothers and sisters, especially those who need us the most. Help us to understand the difference we can make, the love we can share and the lives we can bring to Christ through our Catholic Ministry Appeal. We pray that your grace, O Lord, will lead us to be your loving heart and hands today. Amen.
Más numerosas que las estrellas en el cielo son tus bendiciones, oh Dios bondadoso y compasivo. Nos has llamado para anunciar la buena nueva de tu Hijo, Jesucristo, mediante nuestras palabras y acciones. Fortalece nuestra fe y abre nuestros corazones para que cuidemos de todos nuestros hermanos y hermanas, especialmente aquellos que más nos necesitan. Ayúdanos a comprender la diferencia que podemos hacer, el amor que podemos compartir y las vidas que podemos acercar a Cristo a través de la Campaña para los Ministerios Católicos. Oramos para que tu gracia, oh Señor, nos lleve a ser hoy tu corazón y tus manos amorosas. Amén.