Mass Times
Monday: 8:00 am & 12:00 pm
Tuesday: 8:00 am & 12:00 pm
Wednesday: 8:00 am, 12:00 pm & 7:00 pm (Spanish)
Thursday: 8:00 am & 12:00 pm
Friday: 8:00 am & 12:00 pm
Saturday: 8:00 am, 4:00 pm vigil
Sunday: 8:00 am, 10:00 am & 12:30 pm (Spanish)

EXPOSITION OF THE BLESSED SACRAMENT
Wednesdays and First Fridays: 8:30 am - 11:30 am (followed by solemn benediction).

SACRAMENT OF PENANCE
The sacrament of penance is available every Saturday at 3:00 pm, and Sunday at 11:30 am, or by appointment.

CHAPEL HOURS
The chapel is open for adoration and private prayer every day from 8:00 am - 5:30 pm.
Office Hours
Monday - Thursday: 8:30 am - 3:30 pm
Friday: 8:30 am - Noon
Saturday – Sunday: Closed
For up to date information from the diocese on hurricane preparedness, please visit https://www.dosp.org/insurance/hurricane-season/.
You are invited to join us Saturday, October 1, at 10:00 am for our annual blessing of the animals! Please bring your pets and join us by the grotto on the west side of the church. (Please do not bring your pets to Mass.) See you there!
Our next blood drive will be Sunday, October 2, between 8:00 am and 1:00 pm in the west parking lot. Donors will receive a $20 e-gift card, a Halloween t-shirt, and a free wellness checkup. Please be sure to donate!
We still have 60 Mass intentions available for the rest of the year. The 2023 book will not be opened until these Masses are filled. Please call or come by the parish office to schedule your intentions today! Thank you!
SLEEPING MATS FOR THE HOMELESS
Sleeping Mats for the Homeless is meeting again at 1pm in the small hall. Please be sure to join us! Snacks will be provided.
LOAVES & FISHES VOLUNTEERS NEEDED
Our Loaves & Fishes ministry, which feeds the hungry through Pinellas Hope, needs you to volunteer! Please join us on the fourth Sunday of every month as we serve meals to the poor. Contact the parish office for more information.
Our coffee and donuts is starting on September 18! Please join us in the small hall after the 8am & 10am Masses for food and fellowship. Thank you to the Women's Club for hosting!
Welcoming old and new members! The Women's Club is starting again, and our first membership meeting will be Tuesday, September 27. Mass at noon will be followed by an installation, and afterward there will be a tea party-themed luncheon in the small hall, beginning at 1:00 pm. Hats and gloves are encouraged. Bring your own tea cup! See you there!
FAITH FORMATION (SUNDAY SCHOOL)
Faith Formation Classes, grades K-8 th grade are now in session for the 2022-23 school year.
Classes are every Sunday from 11:15am-12:15pm. Calendars have been distributed to students
and can be found in their folders. The calendar can also be found on the Holy Cross Website,
Faith Formation Tab. Students should report directly to their classrooms on Sunday.
RCIA Youth Year 1
RCIA Youth Year 1 classes are now in session for the 2022-23 school year. If your child has been
placed in this class, they are to report to it each Sunday from 11:15am-12:15pm. Calendars
have been distributed to students and can be found in their folders. The calendar can also be
found on the Holy Cross Website, Faith Formation Tab. Students should report direct to their
classrooms on Sunday.
SATURDAY SACRAMENT PREPARATION CLASS
The Sacrament Preparation Class meets every 2 nd & 4 th Saturday from 9-11:30am. The first class
is/was September 24 th , 2022. There is a total of 12 classes. 6 for Penance. 6 for Communion.
Those required to attend this class will receive an email from the Office of Faith Formation
stating so.
RCIA Year 1 & 2 ADULTS
Adults 18+ years that have registered for RCIA Year 1 or 2 will be contacted with further
instructions. Those that have not registered can contact the Office of Faith Formation at
[email protected]
REGISTRATIONS
All parents need to visit the Office of Faith Formation on Sunday after signing their children into
their classroom to complete their registrations. New registrations will no longer be taken after
October 2 nd . All fees, forms, Baptism Certificates and all other required documents are to be
received and completed by October 2 nd to be eligible for Sacraments in 2023.
CATECHISTS & VOLUNTEERS NEEDED
Holy Cross is very blessed with an existing and amazing group of Catechists, many that have taught over 5 years. We are in need of adults who are willing to teach a class and other adults willing to assist the adult teachers in each class. We are also looking for youth volunteers to assist in the classrooms as well. No experience is necessary! Your love for your faith and desire to teach it is all that is needed. The Holy Spirit will do the rest. If you are interested or would like more information, please email Michelle Timm at [email protected].
Please join the book club in the small hall at 10 am on Thursdays, beginning Sept. 8—Nov. 10 to discuss The Art of Living the Cardinal Virtues and the Freedom to Love by Edward Sri. Books can be ordered on Amazon, Augustine Institute, Ignatius press. If you have questions or would like a book ordered for you please contact Laura McKenna 813-340-9305 or [email protected].
Pope Francis is inviting the Catholic Church to journey together, specifically through the Synod on Synodality. The Diocese of St. Petersburg participated in the Diocesan phase of the Synod between October 2021 and March 2022 through listening and discernment sessions rooted in the Holy Spirit. A report has been created to highlight the feedback that has been received. Click here to read this repot in full: https://dosp.org/synod/. This information represents the many voices that responded to the Holy Father's invitation to pray for and reflect upon the future of the Church.
More information on the Synod:
Pope Francis will invite bishops from across the world to Rome in October of 2023 for a Synod to discern ways to engage more people in the decision-making process that affects the whole Church. The theme is: "For a Synodal Church: Communion, Participation, and Mission." A synod is a meeting of bishops, gathered to discuss a topic of theological or pastoral significance.
Leading up to this gathering, local dioceses will be consulting with local Catholics and others to create a report to submit to their national bishops' conference. Pope Francis commenced this initiative the weekend of Oct. 9-10, 2021 with an opening session and a Mass. The theme for the "Synod on Synodality" is Communion, Participation and Mission:
Communion– Bringing people together as communities in the local Church begins this prayerful insight into the ways of the Holy Spirit. When the Church gathers for the Eucharist, and what flows from it, is when the necessary self-understanding of the mission of the Church is best understood. Thus, the dialogue at this level is rooted in the life of the ecclesial communities and parishes.
Participation– The reflections that the local Churches and communities are undertaking regarding the pandemic form the context of how the Church looks forward, not backwards, to revitalizing its mission of bringing the Good News to all. The gentle call of invitation to the full practice of Catholic life, with the Eucharist at the center of all the Church does, is an integral part of the "walking together."
Mission– Understanding the local situation will feed necessarily into an overview of the mission in the whole diocese. Like a mosaic, the vision is formed of the needs for renewal so that mission to all people is firmly rooted in the life of the local community who gather, by gentle invitation by the Lord, to worship him, to be sanctified by him and to exercise both an individual and collective prophetic voice.
For more information, please visit https://www.dosp.org/synod/
Let Us Adore Jesus
The Bishops of the United States are calling for a three-year grassroots revival of devotion and belief in the Real Presence of Jesus in the Eucharist. They believe that God wants to see a movement of Catholics across the United States, healed, converted, formed, and unified by an encounter with Jesus in the Eucharist—and sent out in mission "for the life of the world."
These three years will culminate in the first National Eucharistic Congress in the United States in almost fifty years. Almost a hundred thousand Catholics will join together in Indianapolis for a once-in-a-lifetime pilgrimage toward the "source and summit" of our Catholic faith.
In late 2019, a Pew Study indicated what many had long suspected. Few Catholics, approximately 30 percent, fully believe in the Real Presence of Jesus in the Eucharist.
This stark reality inspired the Bishops of the United States to action. More than an event or a program, they envisioned a true Revival to rediscover the source and summit of our Faith through a deep commitment of prayer, pilgrimage, and worship on the part of the entire Church in the United States.
The advent of the pandemic only accelerated these plans, revealing their urgency and importance. Too many Catholics still have not returned to Mass to celebrate the central mystery of the Church.
Taking its title from the Bread of Life discourse in John's Gospel, "My flesh for the life of the world/Mi carne para la vida del mundo," the Eucharistic Revival is not a step-by-step plan or a series of meetings; it is a grassroots call and a challenge for every Catholic across the United States to rekindle the fire of love and devotion for the Eucharistic Heart of Jesus.
Over three years, every Catholic diocese, parish, school, apostolate, and family is invited to be a part of renewing the Church by enkindling a living relationship with the Lord Jesus Christ in the Holy Eucharist.
For more information, please visit dosp.org/revival/
FORMED.ORG WEEKLY WATCH LIST
This week's FORMED weekly watchlist is Misery Meets Mercy: Saint Faustina Kowalska, a discussion about St. Faustina Kowalska and her role of bringing the renewed message of Divine Mercy to the Church. Click here to watch this engaging video for free on FORMED.org!
Please note that names will be automatically removed from this list after three months. Please call the parish office to add a name to this list.
Please pray for the following
Rick, Bud, Donna, Susan, Denise, George, Carmelita, Margaret H., Gianna, Tina, Laura, John, Gail, Karon, Beth Anne, Joe, Evelyn, Gerry, Ben, Mr. & Mrs. Verstappen, Victor, Karen, Rose Marie, John, Maureen, Colin, Paul, John, Joseph, Peggy, Kami, Katie, Anne-Marie, Simo, Josephine, Terry, Bill, Maria, Holly, Doris, Zima, Craig, Sharon, Mike, Robert, Phyllis, Jodi, Carly, Ann, Sharon, Beverly, Emily, Lynn, Mary Lou, Catherine, Roger, Maria, Alfredo, Eleanor, Dayana, Janet, Marilyn, Mary Ann, Bobby, Charlie, Christina, Peggy H., Mark, Renee, Glenn, Mary, Lynn, Sandra, Sally, Nick, Frank, Ed M., Paulette, Frank, Bozana, Mary Ellen, Sharon, Patty, Carlos, Maria Julia, Paula, Pam, Catherine, Amanda, Pat, Dennis, Lauren, Grace, Heidi, Scott, Lisa, Dawn Marie, Declan, Bodhi, Zora, Meza Family, Miguel, Nick, Sharon, Frankie, Kathy, Lisa, Pam, Frank, Sara, Nick, Lynn, Sarah Kristen, Joseph & Theresa, Pierotti Family, Sarah, Maggie, Dyllan, Elba, Artie & Halai, Annie, Jeanie, Anne, Lynn, Chuck, Carl, Bella, Bill, Montana, Eli, Susan, Karen, Fran, Diane & Troy & Family, Lori, Patricia & Anthony, Paul, Kathy, Maryann, Mario, Anthony, Christina, Joseph & Lucy, Chuck, Robert, Missa, David, Chuck, Sue Ann, Tina, Angie, Don, Justine, Maria, the Agars, Eleanor, Fr. Tom, Arlene, Brooke, Vincent, Larry, Daniel, Kristen, Susan, Donna, Evelyn, Carmelita, Meg, Allen, Candy, Geegee, Marc, Betsy, Chrissie, Lucille, Kayla, Austin, Tracy, Jan, Lainey, Carol, Jeff, Gary, June, Janice, Bill, Kathleen, Joseph, Sherrie, Norma, Laura Lee, Efrain, Lawrence, William, Francisco, Josephina, Juana, Eusebio, Francisco, Virginia, Dolores, Louisa, Jaime, Zaida, Anne Marie, Jenny, Miriam, Tommy, Camille, Monique, Marcellus, Jessica, Jay, Norton, Anne, Marietta, Taso, Lleya, Robert, Margaret N., Tina V., Frank, John, Linda, Idania, Stacey, Louis, Steve, Marge, Mrs. Blue & daughter, Emily, Walter, Nicholas, Helen, Kay, Mary Lou, Chris, Jessica H., Debora, Mariza, Halina, Leeann, Janet, Gary, Bill, Joseph, Cathleen, Helen
Blog Summary
Posted in Fr. Emery's Blog on 09/15/22
Queridos amigos,
Este fin de semana celebramos el "Domingo Catequético", y el tema es ... Read More »
Posted in Fr. Emery's Blog on 09/15/22
Dear friends,
This weekend we celebrate "Catechetical Sunday," and the theme is "This is ... Read More »
Posted in Fr. Emery's Blog on 08/26/22
Queridos amigos,
Si hay algo que escuchamos regularmente en nuestras conversaciones, obviamente es esto: ... Read More »
Please join us for the following!
Rosary: every Monday through Saturday, beginning at 7:30 am
Rosary for Priests: every Thursday, beginning at 11:30 am
Chaplet of Divine Mercy: every Friday, beginning at 11:45 am
Every Monday. Doors open at 4pm. First games start at 5:45pm. Bring a friend! $12 to start. We look forward to seeing you there!
BINGO IS POSTPONED UNTIL FURTHER NOTICE DUE TO AC PROBLEMS.
During the month of August, our St. Vincent de Paul ministry made 51 deliveries of food and fed 101 family members. They purchased $2,004.48 in groceries and paid $450 in utility bills for our poor neighbors. They received $502.02 in the poor boxes, and other income was $420 from direct donations. Please consider leaving a donation in the poor box. If you need help, please call 727-548-9878.
Please join us for our new Spanish prayer group! For more information, please contact Nohora Leal at 727-656-7736. Thank you!
The lay Carmelite community # 1048 meets the second Wednesday of each month at 6:00 pm here at Holy Cross. For more information, please contact [email protected]
LOAVES & FISHES DONATIONS NEEDED
We need your help! Our "Loaves & Fishes" ministry, which feeds the hungry through Pinellas Hope, needs your donations! Please make checks out to Holy Cross, being sure to note what the contribution is for. Contributions may be dropped off at the parish office, mailed to us, or left in the Sunday offertory. Thank you for your generosity!
Weekly reading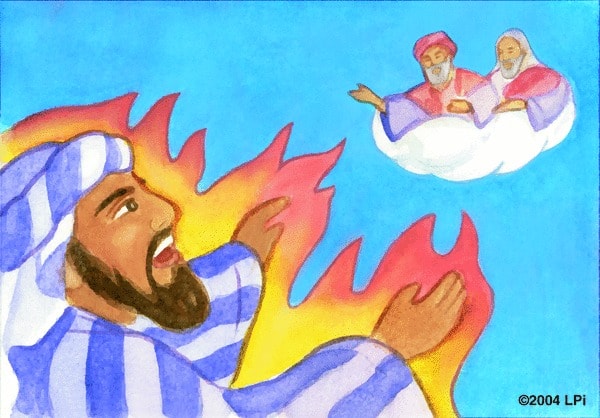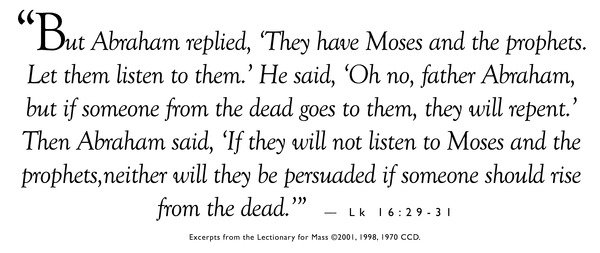 Weekly reading
Readings for the week of September 25, 2022
© Liturgical Publications Inc
Introducing a new, local Catholic news website!
"Gulf Coast Catholic was created by the Diocese of St. Petersburg to serve Tampa Bay, the Suncoast and the Nature Coast. We share positive and relevant articles that help you live your best Catholic life. Bishop Gregory Parkes is the publisher and Teresa Peterson is the Content Manager. You can reach us at [email protected]."
PARISHIONER REGISTRATION & UPDATE FORM
Every Catholic Should Be Registered in a Parish
Beside the active support and involvement that the registration enables, the parish registration is also a mandatory condition for sacraments such as baptism and matrimony.
It is therefore important to register at your parish as soon as you start attending Mass there regularly. Here's why:
You may receive verification letters to sponsor individuals for sacraments, receive sacraments yourself or your child (i.e. baptism, confirmation, matrimony)
You will have the opportunity to establish easy online giving and receive end of year tax contribution statements
You will receive important communications from the parish that non-registered parishioners won't receive
The parish will know the demographics and respond to needs. Further, the Diocese will know that our parish has a healthy base of registered, active parishioners
Please click here for our form, and be sure to answer each item so that our records for you are complete!
Bishop Parkes has written a letter about the end of the General Dispensation from the Sunday Mass obligation.
Do you have challenges getting out of your home to buy groceries and prepare meals? Meals On Wheels of Tampa may be able to help. Serving the Tampa area for 45 years, a caring volunteer will deliver freshly cooked meals to your doorstep. The cost of the meals depends on your situation. They will work with you to find a price that fits your budget. If this might help you or someone you know, please call their office at 813-238-MEAL to learn more about this important mission.
For instructions on how to sign up, please click here
PRAYER FOR THE CATHOLIC MINISTRY APPEAL
More numerous than the stars in the sky are your blessings, O Good and Gracious God. You have called us to spread the Good News of your Son, Jesus Christ, through our words and actions. Strengthen our faith and open our hearts to care for all our brothers and sisters, especially those who need us the most. Help us to understand the difference we can make, the love we can share and the lives we can bring to Christ through our Catholic Ministry Appeal. We pray that your grace, O Lord, will lead us to be your loving heart and hands today. Amen.
Más numerosas que las estrellas en el cielo son tus bendiciones, oh Dios bondadoso y compasivo. Nos has llamado para anunciar la buena nueva de tu Hijo, Jesucristo, mediante nuestras palabras y acciones. Fortalece nuestra fe y abre nuestros corazones para que cuidemos de todos nuestros hermanos y hermanas, especialmente aquellos que más nos necesitan. Ayúdanos a comprender la diferencia que podemos hacer, el amor que podemos compartir y las vidas que podemos acercar a Cristo a través de la Campaña para los Ministerios Católicos. Oramos para que tu gracia, oh Señor, nos lleve a ser hoy tu corazón y tus manos amorosas. Amén.