Mass Times
Monday: 8:00 am & 12:00 pm
Tuesday: 8:00 am & 12:00 pm
Wednesday: 8:00 am, 12:00 pm & 7:00 pm (Spanish)
Thursday: 8:00 am & 12:00 pm
Friday: 8:00 am & 12:00 pm
Saturday: 8:00 am, 4:00 pm vigil
Sunday: 8:00 am, 10:00 am & 12:30 pm (Spanish)

EXPOSITION OF THE BLESSED SACRAMENT
Wednesdays and First Fridays: 8:30 am - 11:30 am (followed by solemn benediction).

SACRAMENT OF PENANCE
The sacrament of penance is available every Saturday at 3:00 pm, and Sunday at 11:30 am, or by appointment.

CHAPEL HOURS
The chapel is open for adoration and private prayer every day from 8:00 am - 5:30 pm.
Office Hours
Monday - Thursday: 8:30 am - 3:30 pm
Friday: 8:30 am - 12:00 pm
Saturday – Sunday: Closed
NOVENA TO THE HOLY SPIRIT
Our Keepers of the Cross ministry urgently needs volunteers to help clean the church on a regular basis. It is a service to the Lord and helps the parish save money! We rely on the generosity of our volunteers. If you are interested in helping out, please contact the parish office at 727-546-3315!
Every Monday. Doors open at 4pm. First games start at 5:45pm. Bring a friend! $12 to start. We look forward to seeing you there!
The lay Carmelite community # 1048 meets the second Wednesday of each month at 6:00 pm here at Holy Cross. For more information, please contact [email protected]
SLEEPING MATS FOR THE HOMELESS
Sleeping Mats for the Homeless (a new Holy Cross ministry) is meeting again this coming Wednesday, September 8, at 1pm in the small hall. Please be sure to join us! Snacks will be provided.
FORMED.ORG WEEKLY WATCH LIST
This week's FORMED weekly watchlist is Glorious Mysteries. Click here to be led in the Glorious Mysteries of the Rosary with this spoken Rosary set to music. For free on FORMED.org!
PARISHIONER REGISTRATION & UPDATE FORM
Every Catholic Should Be Registered in a Parish
Beside the active support and involvement that the registration enables, the parish registration is also a mandatory condition for sacraments such as baptism and matrimony.
It is therefore important to register at your parish as soon as you start attending Mass there regularly. Here's why:
You may receive verification letters to sponsor individuals for sacraments, receive sacraments yourself or your child (i.e. baptism, confirmation, matrimony)
You will have the opportunity to establish easy online giving and receive end of year tax contribution statements
You will receive important communications from the parish that non-registered parishioners won't receive
The parish will know the demographics and respond to needs. Further, the Diocese will know that our parish has a healthy base of registered, active parishioners
Please click here for our form, and be sure to answer each item so that our records for you are complete!
Introducing a new, local Catholic news website!
"Gulf Coast Catholic was created by the Diocese of St. Petersburg to serve Tampa Bay, the Suncoast and the Nature Coast. We share positive and relevant articles that help you live your best Catholic life. Bishop Gregory Parkes is the publisher and Teresa Peterson is the Content Manager. You can reach us at [email protected]."
PRAYER FOR THE CATHOLIC MINISTRY APPEAL
More numerous than the stars in the sky are your blessings, O Good and Gracious God. You have called us to spread the Good News of your Son, Jesus Christ, through our words and actions. Strengthen our faith and open our hearts to care for all our brothers and sisters, especially those who need us the most. Help us to understand the difference we can make, the love we can share and the lives we can bring to Christ through our Catholic Ministry Appeal. We pray that your grace, O Lord, will lead us to be your loving heart and hands today. Amen.
Más numerosas que las estrellas en el cielo son tus bendiciones, oh Dios bondadoso y compasivo. Nos has llamado para anunciar la buena nueva de tu Hijo, Jesucristo, mediante nuestras palabras y acciones. Fortalece nuestra fe y abre nuestros corazones para que cuidemos de todos nuestros hermanos y hermanas, especialmente aquellos que más nos necesitan. Ayúdanos a comprender la diferencia que podemos hacer, el amor que podemos compartir y las vidas que podemos acercar a Cristo a través de la Campaña para los Ministerios Católicos. Oramos para que tu gracia, oh Señor, nos lleve a ser hoy tu corazón y tus manos amorosas. Amén.
For instructions on how to sign up, please click here
Please note that names will be automatically removed from this list after three months. Please call the parish office to add a name to this list.
Please pray for the following
Jeremiah, Jared, Phyllis, Natalie, Virginia, Jenn, Joe, Rick, Bud, Donna, Susan, Denise, George, Carmelita, Margaret H., Gianna, Tina, Laura, John, Gail, Karon, Beth Anne, Joe, Evelyn, Gerry, Ben, Mr. & Mrs. Verstappen, Victor, Karen, Rose Marie, John, Maureen, Colin, Paul, John, Joseph, Peggy, Kami, Katie, Anne-Marie, Simo, Josephine, Terry, Bill, Maria, Holly, Doris, Zima, Craig, Sharon, Mike, Robert, Phyllis, Jodi, Carly, Ann, Sharon, Beverly, Emily, Lynn, Mary Lou, Catherine, Roger, Maria, Alfredo, Eleanor, Dayana, Janet, Marilyn, Mary Ann, Bobby, Charlie, Christina, Peggy H., Mark, Renee, Glenn, Mary, Lynn, Sandra, Sally, Nick, Frank, Ed M., Paulette, Frank, Bozana, Mary Ellen, Sharon, Patty, Carlos, Maria Julia, Paula, Pam, Catherine, Amanda, Pat, Dennis, Lauren, Grace, Heidi, Scott, Lisa, Dawn Marie, Declan, Bodhi, Zora, Marie, Katherine, Miguel, Nick, Sharon, Frankie, Kathy, Lisa, Pam, Frank, Sara, Nick, Lynn, Sarah Kristen, Joseph & Theresa, Pierotti Family, Sarah, Maggie, Dyllan, Elba, Artie & Halai, Annie, Jeanie, Anne, Lynn, Chuck, Carl, Bella, Bill, Montana, Eli, Susan, Karen, Fran, Diane & Troy & Family, Lori, Patricia & Anthony, Paul, Kathy, Maryann, Mario, Anthony, Christina, Joseph & Lucy, Chuck, Robert, Missa, David, Chuck, Sue Ann, Tina, Angie, Don, Justine, Maria, the Agars, Eleanor, Fr. Tom, Arlene, Brooke, Vincent, Larry, Daniel, Kristen, Susan, Donna, Evelyn, Carmelita, Meg, Allen, Candy, Geegee, Marc, Betsy, Chrissie, Lucille, Kayla, Austin, Tracy, Jan, Lainey, Carol, Jeff, Gary, June, Janice, Bill, Kathleen, Joseph, Sherrie, Norma, Laura Lee, Efrain, Lawrence, William, Francisco, Josephina, Juana, Eusebio, Francisco, Virginia, Dolores, Louisa, Jaime, Zaida, Anne Marie, Jenny, Miriam, Tommy, Camille, Monique, Marcellus, Jessica, Jay, Norton, Anne, Marietta, Taso, Lleya, Robert
Please join us for the following!
Rosary: every Monday through Saturday, beginning at 7:30 am
Rosary for Priests: every Thursday, beginning at 11:30 am
Chaplet of Divine Mercy: every Friday, beginning at 11:45 am
LOAVES & FISHES DONATIONS NEEDED
We need your help! Our "Loaves & Fishes" ministry, which feeds the hungry through Pinellas Hope, needs your donations! Please make checks out to Holy Cross, being sure to note what the contribution is for. Contributions may be dropped off at the parish office, mailed to us, or left in the Sunday offertory. Thank you for your generosity!
Blog Summary
Posted in Fr. Emery's Blog on 05/13/22
Queridos amigos,
Todos sabemos y con dolor recibimos la triste noticia de que nuestro ... Read More »
Pope Francis will invite bishops from across the world to Rome in October of 2023 for a Synod to discern ways to engage more people in the decision-making process that affects the whole Church. The theme is: "For a Synodal Church: Communion, Participation, and Mission." A synod is a meeting of bishops, gathered to discuss a topic of theological or pastoral significance.
Leading up to this gathering, local dioceses will be consulting with local Catholics and others to create a report to submit to their national bishops' conference. Pope Francis commenced this initiative the weekend of Oct. 9-10, 2021 with an opening session and a Mass. The theme for the "Synod on Synodality" is Communion, Participation and Mission:
Communion– Bringing people together as communities in the local Church begins this prayerful insight into the ways of the Holy Spirit. When the Church gathers for the Eucharist, and what flows from it, is when the necessary self-understanding of the mission of the Church is best understood. Thus, the dialogue at this level is rooted in the life of the ecclesial communities and parishes.
Participation– The reflections that the local Churches and communities are undertaking regarding the pandemic form the context of how the Church looks forward, not backwards, to revitalizing its mission of bringing the Good News to all. The gentle call of invitation to the full practice of Catholic life, with the Eucharist at the center of all the Church does, is an integral part of the "walking together."
Mission– Understanding the local situation will feed necessarily into an overview of the mission in the whole diocese. Like a mosaic, the vision is formed of the needs for renewal so that mission to all people is firmly rooted in the life of the local community who gather, by gentle invitation by the Lord, to worship him, to be sanctified by him and to exercise both an individual and collective prophetic voice.
For more information, please visit https://www.dosp.org/synod/
Weekly reading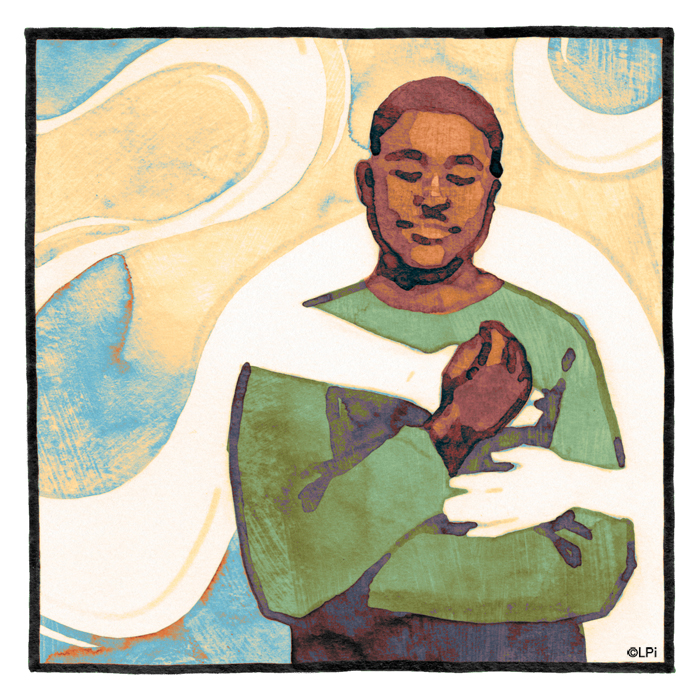 Weekly reading
Readings for the week of May 22, 2022
© Liturgical Publications Inc
Bishop Parkes has written a letter about the end of the General Dispensation from the Sunday Mass obligation.
Do you have challenges getting out of your home to buy groceries and prepare meals? Meals On Wheels of Tampa may be able to help. Serving the Tampa area for 45 years, a caring volunteer will deliver freshly cooked meals to your doorstep. The cost of the meals depends on your situation. They will work with you to find a price that fits your budget. If this might help you or someone you know, please call their office at 813-238-MEAL to learn more about this important mission.